Melbourne Fire Doors
Tech Info
NEED TECHNICAL ASSISTANCE OR ADVICE?
Door Certification
AS905.1 requires all fire doors to be fitted with certification tags after installation.
If fire doors are installed my MFD, these tags will be fitted at the completion of the installation.
Where doors are installed by others, MFD supply a certification checklist which needs to be completed by the installer, and returned to MFD.
If the hardware used on the door is approved, and door clearances are within the requirements of AS1905.1-2015, certification tags will be issued.
The location of the door and frame tags is as follows.
Door tag:     Immediately below the top hinge, or approx 1500mm above floor level on tall doors.
Frame tag:   Immediately below the door tag, in the frame rebate.
Pairs of doors have 1 frame tag, and a door tag for each door leaf.
Certification tags and certificate will not be supplied if:
Door clearances are excessive.
Door hardware is not approved.
Door hardware is missing.
All hinged fire doors must be self closing and self latching.
If door hardware requirements are unclear, please contact MFD for assistance.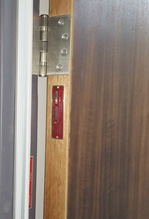 Door Handling & Storage
If doors are not going to be installed immediately, they need to be stored flat in a dry area, and protected from heat and sunlight, or bowing may occur
After installation, doors must be sealed on both faces and all edges with at least 2 coats of suitable paint or in the case of veneered doors, the correct sealer. It is important to ensure the top and the bottom of the doors are well sealed.
Where doors are to be installed with direct exposure to sunlight, they should be finished in a light reflective colour. Dark colours will absorb heat, and the door may bow.
Experience has demonstrated that when warp occurs after delivery, it is usually due top improper storage, or adverse moisture conditions, prior to or after installation, not faulty workmanship.
Melbourne Fire Doors will accept no responsibility for development of warp if
The moisture content of the door falls below 12% or exceeds 18%.
Doors with face veneers of differing materials or timber species.
External doors painted with dark colours.
Doors installed in air conditioned areas or with abnormal temperature differentials from one face to the other.
Doors that have been lent against walls prior to installation.
Doors fitted with bolection moulding that have been installed by others, or differ from tested prototype.
WARP
Warp not exceeding 5mm on doors up to 2134 x 914 x 38, or 6mm on doors over 2134 x 914 x 38 and up to 2438 x 914 x 37mm shall not be considered a defect.
Doors in excess of 2438 High or 1219mm wide are not guaranteed against bow or twist.
Interpretation Of Warp
Warp shall be interpreted as meaning the cupping or twisting of doors. It refers to distortion within the door itself and not its relationship to the jambs or frame in which the door is hung. Therefore, warp exceeding tolerances noted previously shall be considered a defect only.
When cupping is determined by applying a straight edge to the concave face of the
Door or,
When a twist is determined by placing the door face against a true plane surface.
The guarantee against warp does not apply to the following:
Doors with face veneers of different species, or unbalanced construction.
Doors that are improperly hung or do not swing freely.
External doors which have been painted with dark colours.
Doors where closers and associated hardware are fixed in a manner that causes undue stress on the door.
Doors that have not received adequate coats of paint as specified to all edges and faces.
It has been established that most warping occurs after doors have been delivered to  building sites and is usually due to improper storage and handling and exposure to adverse moisture conditions after hanging, not to faulty manufacture. The manufacturer will accept no responsibility for doors where the moisture content of the timber falls below 12% or exceeds 18%. Obviously the manufacturer cannot assume responsibility for conditions beyond his control. The manufacturer should however be consulted promptly if excessive warping occurs, so as to be of assistance in overcoming the problem. It is the responsibility of the owner to maintain an ongoing adequate seal, according to the paint or stain manufacturer's recommendations to prevent deterioration of the doors.
Fire Door Installation
How to install an MFD fire door.
Our fire doors are manufactured using a Vermiculite based core, with perforated metal plates installed inside the doors, at the hinge, lock and closer positions. 1.5mm steel reinforcing plates are installed under the perforated plates at the hinge locations. The standard hinge, lock and closer reinforcing locations are shown on the sketch at the end of this document.
To ensure doors are hung correctly, they are stamped "Hinge Side" on the hinge edge towards the top of the door, and 2 small holes are drilled in the top of the door, on the hinge side.
If the doors are not hinged correctly, the reinforcing plates will be missed. The door will then not function correctly, as it will drop, and the hardware will be loose.
To achieve the clearances required by AS1905.1, the fire doors are manufactured to suit the  reveal size of the frame.
 Maximum gap between the door and frame at the top, and both sides is 3mm. A minimum of 3 and a maximum of 10mm is allowed between the bottom of the door and the combustible  floor finish.
Where the finished floor is concrete, we can have up to 20mm clearance under the door, and still certify the door.
To limit the thickness of combustible floor coverings, AS1905.1 allows a maximum of 25mm from the structure to the underside of the door, including the max 10mm gap. Floor covering s are then limited to a maximum of 15mm.
Trimming allowance on the fire doors is limited to 5mm on all edges of the door.
It is possible to take more than 5mm off the bottom of the door, but, depending on how much is taken off, the bottom rail of the door will need to be reinstated, and the hinge and striker locations may be affected.
Pairs of doors have reinforcing plates at the top and bottom corners on the lock edge of both door leafs.
Hinges are to be checked into the edge of the doors, and fastened with 10# x 32mm long self tapping screws, making sure the screws are in the reinforcing plates inside the door. A pilot hole must be drilled to prevent splitting the timber stile.
Locks handles and door closers to be fitted as per manufacturers instructions.
Pairs of fire doors are supplied with a set of Aluminium meeting stiles, a "Bull nose" section and a "T or J" section, screwed into the corner and lock plates with 10# x 32mm self tapping screws.
Fire doors are required to be self closing and self latching. They do not have be lockable.
To comply with the above, single fire doors require a fire rated latching device, mortice lock, key in lever lock, passage latch or fire rated roller bolt, and a fire rated door closer.
As well as the above, pairs of door require a door closer to each leaf, a concealed autobolt in the top of the "inactive" leaf, and a sequential closing device.
Pairs of fire doors can be fitted with 2 roller bolts if locks or latches are not required, but may still need a sequential closing device, depending on the Aluminium meeting stiles that are used.
Double action fire doors are the only ones that do not require a latching device.
After installation, doors must be fully sealed on both faces and all edges to prevent the ingress of moisture.  Failure to do this will void the warranty.
Fire Door Frame Backfilling
Backfilling of fire door frames is a requirement in AS1905.1.2015 (See Clause 5.2, 5.3.1, 5.3.2) It has been recommended in previous standards as far back as 1990. (See 1905.1-1990 and AS1905.1-2005 Clause 5.3)
It is not a requirement imposed on builders by Melbourne Fire Doors.
Fire doors and frames are manufactured to comply with AS1905.1, and are tested to 1530.4.
The standards called up in the schedule of referenced documents in the current BCA are:
AS1530.4-2014 and AS1905.1-2015. (See Spec A1.3-1)
There is a note against AS1530.4 in the BCA, that states previous testing to this standard remains valid. Many fire door frames were tested without backfilling prior to 2005, and therefore should be acceptable today.
The problem arises when the current BCA calls up AS1905.1-2015. Old tests to AS1530.4 are acceptable, and previous versions of AS1905.1 only recommended backfilling.
Fire doors and frames today, must comply with AS1905.1-2015, which clearly calls for backfilling.
AS1530.4 changed in 2005. And since then, there has been requirement to have thermocouples on the door frames, to test heat transmission through the frame, and check it against the insulation criteria in the standard. Hollow door frames only achieve 15 to 20 minutes before they fail. Backfilled door frames can get the required 30 minutes insulation.
A two hour fire door installed in a hollow frame today, would have an FRL of -/120/-
The same door and backfilled frame, would have an FRL of -/120/30
A  two hour fire door and hollow frame would comply with AS1905.1-1997, with an FRL of -/120/30
The backfilling must be done for both masonry and stud walls. Plaster strips can be used, or frames can be filled with mortar. Foam filling is not an acceptable medium to backfill door frames.
Melbourne Fire Doors manufacture fire doors to AS1905.1-2015, and expect the builder to install frames to the standard as well.
Where compliance with AS1905.1-1997, allowing unfilled frames is to be used, MFD will require a letter of acceptance from the building surveyor, confirming that the older standard is acceptable. Doors and frames will then be certified to the 1997 standard, which will be shown on the certification tags and supporting certificate.
If there is any doubt about what frames can be backfilled with, consult the fire door supplier.
THE MELBOURNE FIRE DOOR DIFFERENCE...
Friendly Advice
Knowledgeable, Industry Experts
After Sales Service
Warranty, Service & Inspections